A drama series of classic tales with a twist
The world's favorite classic tales are adapted as plays with a modern twist for this unique series.
Ready Action! Takes our young actors and actresses into a fairyland
full of creativity and imagination.
As students learn their lines and songs, rehearse, and finally perform
various characters, they will naturally acquire English reading
comprehension and presentation skills.
The English proficiency level of this series is carefully adjusted to suit
students from starter to advanced level. Ready, Action! shall open up
diverse ways to learn English in a musical and theatrical context.
Each title in Ready, Action! includes a Drama Book and a Skill book as
well as a detailed Teacher's Guide which provides resourceful guidelines
and tips for both acting and language instruction. Ready, Action! is also
available on CD.
"Learning English through Drama"
Drama is FUN!
※ It creates an authentic setting for the participants to acquire the skills of reading, speaking, listening, and writing in English.
※ It creates the real context for the participants to acquire various generic skills:

Ready, Action! (Teaching Aids)
Drama Book
Skills Book
Activity Book
Workbook
Big Book
Audio CD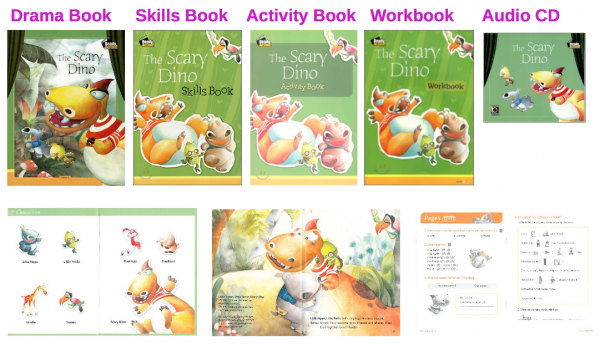 3 different levels suitable for KS1, KS2 and KS3 students.
Total: 36 titles
Level 2:
The Scary Dino
The Gingerbread Man
The Shoemaker and the Elves
The Enormous Turnip
Level 2:
The Three Billy Goats
The Ants and the Grasshopper
The Little Red Hen
The Three Little Pigs
Level 3 :
The Blind Men and the Elephant
Snow White